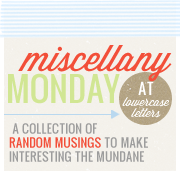 one My eldest son astounds me every day. A few weeks ago he made me scream. I was cleaning in the kitchen while he was napping upstairs, behind his childproof door and at the top of a staircase. I turned around and he was standing right there, I screamed, he ran, I got Husby to move the babygate to his doorway since he has now mastered his childproof door handle. A week later we went to Babies R Us and bought two more baby gates! Yesterday he was talking to my dad on the webcam and said something like "Mummy got babygates because I scared her in the kitchen." His comprehension and ability to connect events from different weeks astounds me. He's not three till September.
two I am still really enjoying writing for GeekMom. It's a little more nerve wracking now that we have a larger audience at Wired.com but I think it is making me a better writer. I'm working on a big piece right now that is more in depth than any I've written before. I worry that I'm misunderstanding key aspects and that I might misrepresent something but at some point, you just have to trust your gut, ignore the internet trolls and go for it.
three It has been raining in Maine for three complete days. One day is nice, but now it's getting cold and I still don't have post maternity pants that fit!! We also haven't been able to mow out lawn so it's getting jungle like out there.
four Racking up the credit card while on Maternity Leave has some benefits. We accumulated so many LL Bean coupons that I got a brand new pair of Wellies for free on Saturday. Thank goodness given the downturn the weather has taken.
five On Saturday afternoon I tried to take a nap with Toby. I was tired and he wasn't settling down. It didn't work, all he wanted to do was kiss me and hug my head. I couldn't stop laughing which only encouraged the kissing and lack of napping! It was better than a nap.
six This is Husby's big week at work. On top of the regular day he then has 5.30-10.30 tonight, 5.30 -7 tomorrow, 6.15-8 on Wednesday and a church meeting on Thursday. Makes for long evenings at home with the boys.
seven We're going down to Connecticut for a family birthday this weekend. The cousins are turning 1 and 4, this is the first time we've gone down for a party. Sometimes you just have to suck it up and do something, even though four hours in a car seems like a bad idea. We'll be in a hotel Friday night thanks to the ever lovely Uncle Ray, so we'll only have the drive once each day. Kind of wish we were staying till Sunday so I could meet up with a local GeekMom. Of all Husby's cousins, there are only four kids in the next generation, this is the first time all four will be in one place, so it's pretty cool.
eight If anyone wants to buy me a copy of Jenny Lawson's book so that I can join in this month's GeekMom book club, donations will be happily received! The library's copy has 28 holds! I haven't managed to join in much on book club yet because the past few months have been crazy. I haven't read a book to completion since before Christmas which makes me very sad. We are slowly whittling out the extra "stuff" in our house so I hope to have a calm place soon in which I can start to read once more.
nine We asked Toby if he wanted to watch a movie last week, he thought for a second then said "No, read stories" I love that kid.
ten Charlie's neck still isn't very strong and he's not making many more noises than he was a few weeks back. Toby developed much faster. I'm sure it's nothing to worry about but I do only have one point of reference!