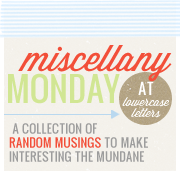 It's Monday, I'm too tired to string together cohesively the half dozen or so things I've thought about posting so here you have the inner workings of the mind of a slightly frazzled working Maine mummy
1. Dr Who Season 5 did not arrive at the Library in time today so it's back to X-Files season one for me. Only slightly bummed.
2. Hoping to finish Husby's crocheted Minion tonight but very much doubt it because my brain is already in Bed.
3. Listened to Toby loving his daddy tonight while I scrapbooked on the other side of the wall, blissful (I wasn't in the room because Husby wasn't getting hugs when I was there and was when I wasn't - now that's a hideous sentence)
4. Finished reading "An Education" by Lynn Barber, interesting read, un-sympathetic woman.
5. Contemplating what book to read next - Dickens, Fitzgerald or Atwood.
6. Husby is redoing the grout on the bath tub for the second time, hopefully this stuff behaves in the manner it is supposed to.
7. Snow tomorrow, snow on Wednesday, winter plows on ;-)
8. Doughnuts
9. Mulder
10. zzzzzzzzzzzzzzzzzzzzzzzzzzzzzzzzzzzzz