It's September once more, which means Husby's birthday, Toby's birthday, our wedding anniversary and, most importantly, Fall Festival over at Nest of Posies.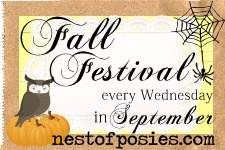 I love that Kellie does this every year. It's still early in the day over here in New England and I already have 43 other bloggers to check out. Fall is my favourite time of year and so I love getting inspiration from so many creative women.
Since Nanny bought Toby a Waffle Iron this year I thought, what better way to kick off the season than with Pumpkin Waffles (though I did make pie this weekend too!). I couldn't find any recipes at my usual food blog haunts so I expanded my search and found this recipe over at Disney's Family Fun.
I was a little concerned that it only called for 1/2 cup of pumpkin, I like my pumpkin flavor to be strong. They were juicy and moist, but I definitely need more flavors of the season in this, and I even added nutmeg and cloves per my favourite pumpkin pie recipe.
Toby had no objections and ate two and a half of them.
Does anyone have a Pumpkin Waffle recipe with enough Pumpkin in it to knock your socks off?