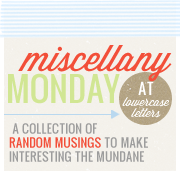 one On Friday we got eight more inches of snow. I was ready for Spring but I had also been lamenting the fact that Toby hadn't been on his sled this year, so we got to rectify that and he loved it. Added bonus? Two warm days means the effects of Friday's storm are 95% gone.
two We finally got around to watching
The Social Network
last night. For someone who likes to craft while watching movies this is a no go as the main character speaks very fast and the action moves along at such a clip that stopping for a dropped stitch would lose me ten minutes of plotline in ten seconds. It was a very well done movie but not altogether enjoyable to watch. The pace of the dialogue is distracting, the arrogance (or portrayed arrogance) of the main character is such that you want to punch something and aside from a nicely wrapped up and "just" ending it really is a rough two hours. It makes you want to cancel your facebook account but then you also now know the kind of terse words that would be issued by it's founder so there's no point. It makes me nostalgic for a simpler time and sad that the future of our world will largely be determined with people like Mark Zuckerburg.

three I have had five yards of Curious George fleece sitting in my hallway for over a week now waiting to become a blanket for my son and it is eating a hole in my soul that I haven't had chance (made time) to do it yet. On the same trip I also bought dress fabric (Orange Polka Dots and Orange/Pink/Green Plaid) and Curious George cotton for an unknown project. They don't eat at me in the same way.

four It's official. Our Pastor is the Chuck Norris of Pastors. Self admittedly he may not be the best or brightest but when he preaches he packs a punch unlike any other. Every sermon so far has hit home with me, touched my heart, given me something new to think about and something to work on during the week whilst also showing me more of who Pastor Travis is. I love being part of this church.
five Toby is being clingy at the moment and I'm relishing it. The vice like grip of his legs around my waist. The small hand reaching out for mine to bring me to a toy. The "mummy" that echoes through the house and my heart. Colds are nasty little things but Toby knows they can be cured with a little extra love from mummy - ah sweet sweet boy.
six We had Toby's bestest best friend Finn to stay over on Saturday night, he spent Saturday with us too and it absolutely rocked. Toby showed Finn all the good toys, Finn curled up in my lap for book after book after book while Toby ran around shrieking about cars, they danced together, they munched together, they watched Peppa Pig together. My favourite thing from Toby? Seeing his face light up and the little claps every time he realised Finn was still there. My favourite thing from Finn? "Tobo, Tobo, Tobo"