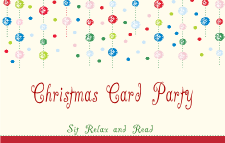 Husby and I have sent a Thanksgiving card for many years now, we take a picture at the
Apple Festival in September and send them out in the week before Thanksgiving. Getting the right picture or the funniest picture has been a source of much fun poking in the extended family.
Usually I handwrite Christmas cards (purchased in the post Christmas sale of the prior year) but last year we sent photo cards. Photo cards are so much easier! This is last year's card.
Cha Cha you rock, this was my favourite design last year, I love that you picked it out too! Husby's sister was living with us at the time so for this card we each picked a favourite pictue. I can't even remember which one of us picked which picture now, though I am sure they both would! For my Grandmothers and parents I used stickers to personalise the cards "Nanny and Grandad" "Great Grandma" etc.
This year's card has yet to arrive but I wait with bated breath. In fact USPS tells me it should arrive today so Husby and I have an evening of stuffing and addressing ahead of us tonight. This year I had a hard time picking pictures. Since for us the Thanksgiving card is the main event there was no pressure to get a posed picture or family photo. But still, of late I'm having a hard time catching the right photo moment, I always get just before or just after the heart melting smile. So I went with a range of emotions. I also usually have help from Husby but this time he was knocked out on Valium so his input was unavailable.
This is the world premiere of the card - sorry Dad! I love the symmetry of this card and I love getting to use multiple pictures, he changes so much everyday it's hard to zero in on who Toby is on any given day.
We'll start opening Christmas cards tonight so maybe I'll have chance to post some English cards to share with everyone soon.
Happy Christmas!