My mum is here for two weeks so I may be a little absent while otherwise occupied with good food and good times. So it's a linking week (still looking forward to The Pleated Poppy on Wednesday - oh my!) Today I'm linking with Carissa again...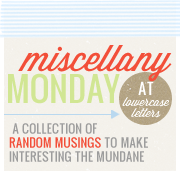 ONE... When my Dad visits, even though I turn 30 next year, I look forward to time with my Daddy. When my Mum visits I look forward to time with a good friend.
TWO... We swam in Grand Memere's pool on Saturday and it was bliss. The Mommy and me float from Walmart is my new favourite thing.
THREE... I am helping out in our church's search for a new pastor and am so encouraged by all the great men out there serving God.
FOUR... I got to do two scrapbook pages yesterday which makes me so happy and I am looking forward to posting them soon, well, when mum leaves!
FIVE... I get my new "porch" swing assembled tonight by my loving Husby.
SIX... We get to go to the Boston Aquarium in a few weeks with Toby - oh how he will love the fishes!
SEVEN... Life is not perfect, our expenses exceed our income, my family lives 3000 miles away, Toby is in daycare, I have very little time to myself, my house is consistently messy, but on the whole I live a wonderfully blessed life. I have the best Husby, the cutest most well behaved baby, a job with people I love, a family who would cross an ocean for me, a wonderful daycare lady, always enough to get by and a messy house usually means we've had fun this weekend!