I'm linking up today with carissa over at lowercase letters for the first time. My life is so random and disjointed at the moment and when I saw her blog again this morning it seemed like the perfect time for my first Miscellany Monday.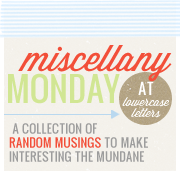 ONE
Saturday night we got the evening off. Grandama and Pepere came over to sit with Toby, well to sit while Toby slept, while Husby and I went out with friends for the annual joint Birthday celebration. We went to the Hibachi for Seafood and I had my first drink since we started trying for a baby in August 2008! I have been dreaming of this Margarita and it was absolutely perfect!
TWO
Sunday morning our friends of the night before played with Toby while Husby and I went to church. I still missed the service because I was in the pastor's office crying the whole time but I feel rejuvenated now and am reminded of how much support I have in my life. Whoever said Hormones regulated by the time your baby is nine months old?
THREE
Husby and I are going back to our Tuesday night small group tomorrow. Toby will sleep there and then come home with us when we are done. So excited to be claiming pieces of our lives back.
FOUR
I am almost done with my friends baby blanket for the upcoming shower and am excited at the storybook bunting I am going to make (and blog about) this weekend!
FIVE
School gets out tomorrow but I work in the Superintendent's office so I don't get summer's off :-( It is nice and quiet here sans staff and student though.
SIX
I turn 29 on Thursday and am looking forward to a sandwich from my favourite place -
Henry VIII's
. Oh yummy beef!
SEVEN
I love all my blog friends even though I know we will probably never meet and I look forward to seeing what's going on in their lives every week.
EIGHT
I know some HTML but can't for the life of me remember how to get the Miscellany Monday image to be central and it is driving me CRAZY! I have a little OCD when it comes to making things symmetrical - HELP!!!