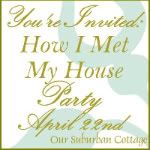 Husby and I had been looking for houses for two years, he had stipulated that we couldn't have children until we owned a house so I was somewhat frustrated.
We had an unusual joint perspective. In England all water is town water, all sewage is town sewage, most heating is electric hot water radiators, no basements, no land. I grew up in a terraced house which means that the walls on either side were the walls of our neighbors. Very condo like. Husby grew up in small town Maine in a colonial on Main Street with a big patch of land and woods less than a mile away.
We started off looking at places we could buy cheap and fix up but none of them were really worth the asking price. Over time we gave up looking for the things we wanted in a house, land, woodstove, fruit trees, porch, three bedrooms, two stories and started looking at everything. We put in an offer on a Ranch that had been host to chain smokers for fifty years and thankfully that didn't go through. We put in an offer on a quirky old house that needed some work and thankfully that didn't go through. Then we upped the price we were willing to pay and we found it. The description was perfect so we did a drive by and loved the house and the neighborhood. 20 minutes out of town, nicely situated in the country, a park just down the street. We made an offer within three hours of seeing it and moved in four months later.
Private well, private septic, oil furnace, 2 acres, fruit trees, woodstove - what on earth was I going to do with all that!
I have to say that there are far more quirks than we knew about when buying it but we love it! The day we moved in (before we knew about the fleas they left behind) was the happiest day of my life. Bringing my baby boy to his home comes a close second ;-)